Forest Management 101
New to forest management? This guide is intended for you, whether you own 5 acres or 5,000 acres.
Step 1: Inventory & Assess Your Forest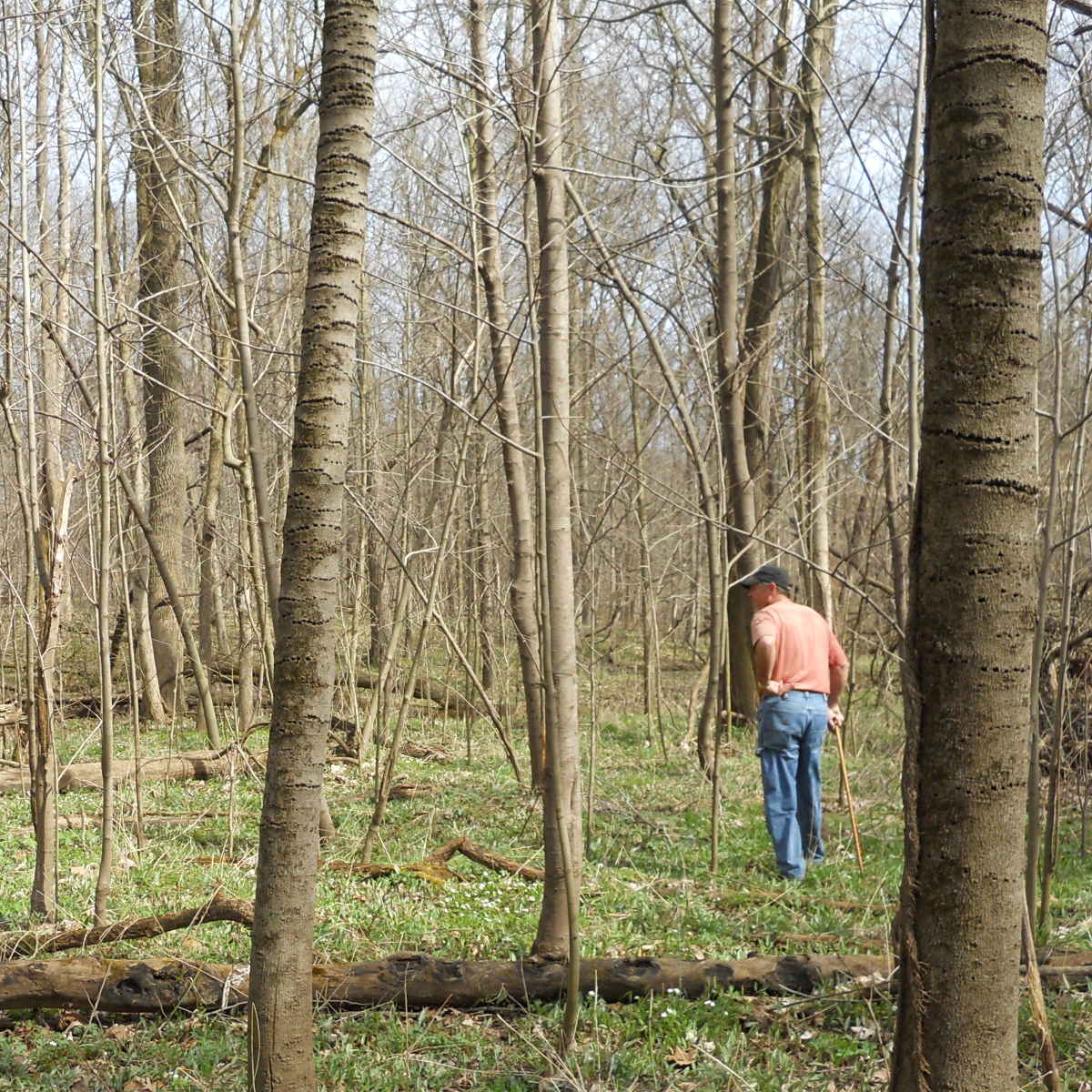 For new forest owners, discussing your goals and your land with a professional consulting forester is a good place to start.
Find a Good Forester
First, a good forester has a university or technical degree from an accredited forestry program. Second, a good forester also has experience working with forests, forestry issues, timber buyers, and government forestry programs in your region. Third, a forester is an independent professional whose interests lie with you, not with a timber company or another third party. If your forester has a degree, experience, and independence, you are on the right track. Illinois Consulting Foresters Association member foresters provide these critical attributes for your forest management needs.
Depending upon the job, there are several other considerations to determine whether you have the right forester. Does your forester carry the appropriate liability insurance, worker's compensation insurance, and licenses? Can they provide a list of satisfied references? Are they familiar addressing your particular forestry issues?
There are several critical issues to discuss with your prospective forester.
Goals for your Timberland
Do you prefer to manage only for timber value? Or would you prefer to manage your forest for multiple goals, such as wildlife, recreation, and aesthetics while also harvesting a few logs along the way?
About Your Forestland
Let your forester know what your land looks like. How many acres? Do you know any of the dominant tree species? Have you harvested it before? It is hilly land or land that flood frequently?
How Your Forester Works
Finally, you may want to know more about how your forester works. How quickly will they be out to take a look? Will they walk the land with you? What is their fee schedule? Do they charge on an hourly basis or a per-plan basis?
Develop a Plan
Work with a forester to develop a 10-year forest management plan for you. This will provide an inventory and appraisal for your existing timber: what you have and approximately how much it is worth to a timber buyer. Your plan should also contain suggested management actions you can take to profit from and improve your timber over the upcoming years. A management plan is not a one-size-fits-all approach. Make sure the plan realistically meets your goals and is something you can accomplish over the timeframe. Perhaps you ask your forester to identify management actions by their priority for your forestland.
Do the "Paperwork"
Once the plan is complete, your work is not over. If you plan to pursue the generous property tax breaks for forestland owners, you will likely need to submit your plan to the Illinois Department of Natural Resources. If you are a new owner or you have recently inherited your land, ensure you and your forester have establish your cost-basis to offset future capital gains taxes from the sale of timber. If you plan to pursue cost-share incentives to improve your forestland with forest improvement practices such as timber stand improvement and tree planting, now is the time. Discuss the best cost-share programs with your consulting forester, and submit your application to the appropriate government agency.
Step 2: Actively Manage Your Forest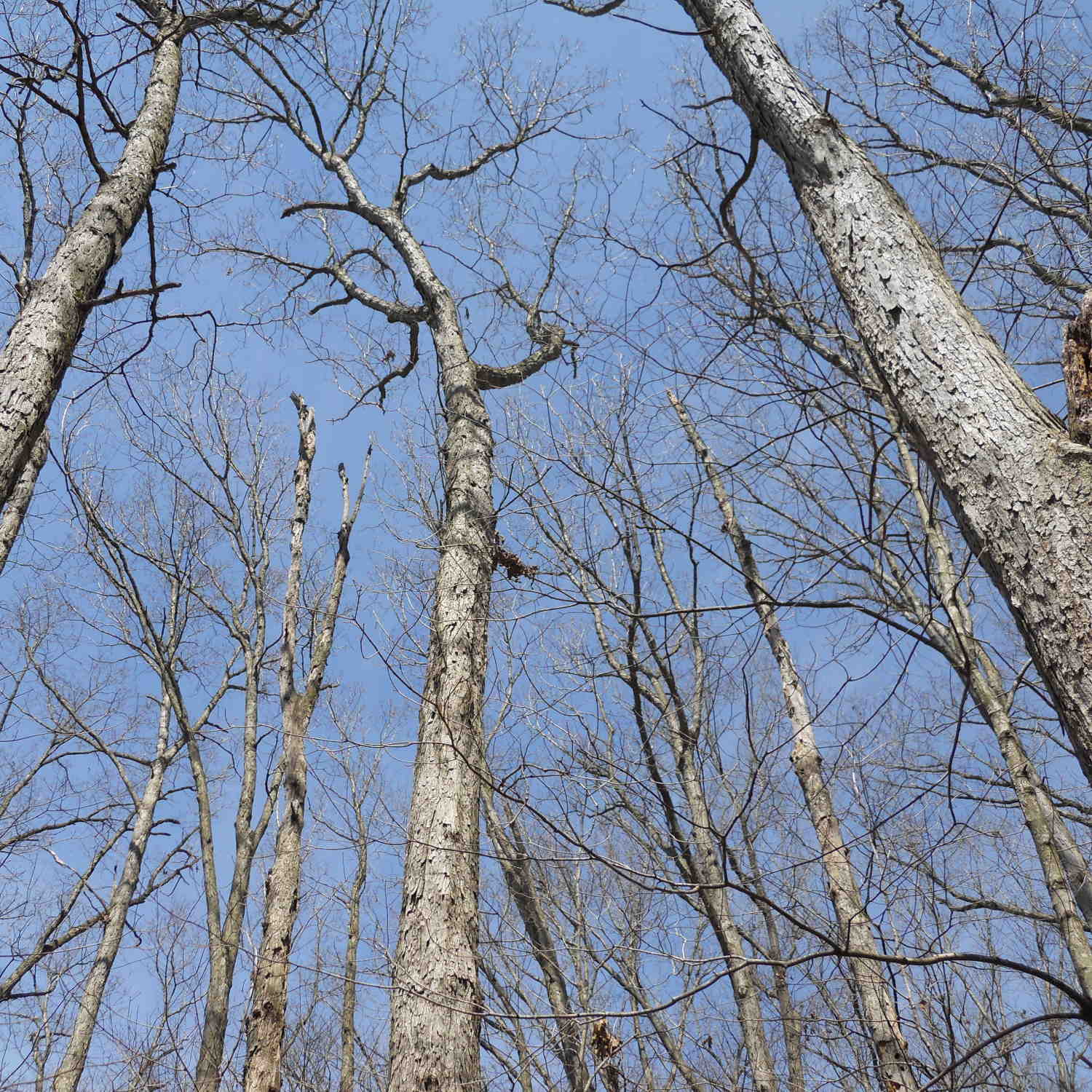 Look up at your tree tops. Are your best trees getting sufficient sunlight? You can often improve your timber by thinning crowded forests like this one, before trees begin to deteriorate and die back due to heavy competition.
Harvest Your Timber
Maybe you are the lucky one with large, mature, high-quality trees ready to be harvested. Work with your forester to decide how you will sell the timber. How much timber will you harvest? How will it be marketed, bid out, and contracted? Most importantly, how will you improve your remaining forest, and how will you plan for establishing the next generation of timber?
More likely, you have a few nice trees and a few damaged and declining trees that may be salvaged to make room for the next generation of trees. Consider a timber harvest aimed at improving your woods, while generating a bit of side income. Work with your forester to develop a plan of action to get those low-value trees out of your woods. One of the most limited resources in Illinois forests is light; by selling and removing your declining trees, you may be able to reduce the shade that is slowing down your best young and mid-sized trees.
Perhaps your forest is mostly young timber with limited possibilities for commercial improvement. There is still plenty you can do to improve your forest for that eventual harvest, not to mention all those other benefits: wildlife habitat, hiking and camping, relaxation, firewood, water quality, and more.
Improve Your Forest
Timber stand improvement, tree planting, prescribed burning, invasive species management are all tools commonly used to improve forestland. Your forester can provide expertise about what is appropriate. Thin out small junk trees that are crowding your nice black walnut and oak trees. Plant new trees in clearings where they will thrive. That impassible area overrun by invasive bush honeysuckle? Consider clearing it out and maintaining it with a prescribed fire every now and then.
Work with your consulting forester to identify the highest priorities that will pay off most quickly. Every woodland has an area that could use some improvement, but the challenge is identifying the most important, high-priority areas. Forest management is a marathon, not a sprint.
Step 3: Enjoy Your Forest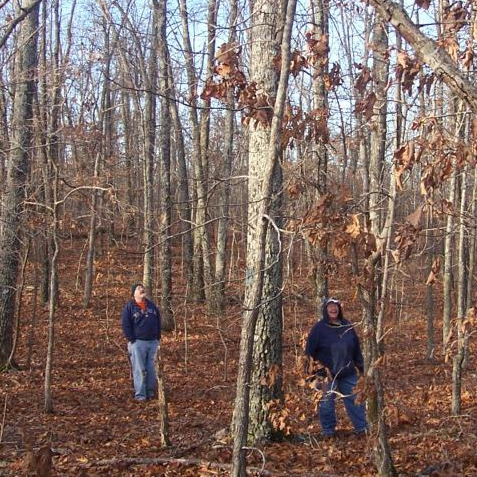 Take a chance to enjoy your woods and your improvement work. Good forest management is a long-term endeavor!
Hunt, hike, camp, search for mushrooms, watch wildlife, but savor the progress.
Leave the work to your forester, and enjoy your land! Put up your hunting stand next to that wildlife clearing. Hike along the old logging trails. Camp in a new clearing, around a campfire burning forest thinnings. Search for mushrooms; perhaps your forester will give you a few tips about where to look. Watch the wildlife come and go, as they appreciate the variety of habitat types that good forest management creates.
As you enjoy your new woodland, savor the progress. Those trees released from competition by timber stand improvement? Watch them double in size. The weed thicket brought under control by invasive species management? Wander through it on a spring day, as spring ephemeral wildflowers poke through the leaf little. Enjoy it as the small, previously-shaded oak seedlings reach for the sky. That stately grove of white oaks on the hilltop that was thinned out? Take a rest, and listen to the deer and squirrels munch on their favored acorns.
Step 4: Do It Again
After 10 years of forest management, take a break to reassess. Meet with your forester. Update your plan. Consider what improvement priorities are next. Review the paperwork. File tax forms and cost-share applications as necessary. Review timber harvesting plans.
When it comes time to sell the land, remember that you are not just selling your land assets. You are also selling a valuable, carefully cultivated crop of timber. Even if you have not had a chance to harvest yet, you are selling a better and more valuable forest: better wildlife habitat, more recreational potential, and higher timber value.